TEAHOUSE AL-HOCEIMA
Process-oriented artistic interventions
Zwaanshals 394/ Rotterdam
2002 - 2006
Teahouse Al-Hoceima was a project Daniela Swarowsky started in April 2002, as part of her commission by the Zwaanshalsfestival, part of Weekenden van Noord. Al-Hoceima was a traditional Moroccan teahouse in the Old North district of Rotterdam only visited by Moroccan men. During that time, she went to Zwaanshals on a daily basis for her research but had no office on the street and was missing a suitable meeting place: a place to sit, drink coffee, think and write. As an experiment, she decided to make Al-Hoceima into her meeting place. Undertaking a friendly invasion into a previously male-only territory, she confronted herself –as well as the customers– with her presence in the teahouse. To her surprise, she was very well received. After many talks marking the beginning of a dialogue that would continue for four years, she offered to help improving the teahouse's interior. She commissioned Ona Jaruseviciute to produce a huge, colorful wall painting consisting of a mix of symbols from different countries of the Muslim world. It was hung prominently on the entire length of one wall.
It also struck her that although a great portion of Zwaanshals' population is Moroccan, there were no Moroccan restaurants or fast food shops in the whole area. Daniela Swarowsky considers food a first and important step to overcome cultural barriers. Therefore, she initiated together with the owners a series of couscous dinners and music events at Al-Hoceima. She invited friends and acquaintances to join, asked the local Moroccan and Turkish music stores to lend them their 'best of' selections and asked different musicians and artists to play live. The two 'Nights @ Al Hoceima' were a big success. This kind of sharing and celebrating between people from different ethnic and social backgrounds who usually seem to live on different islands had an almost cathartic effect on the participants. The joyful eating, dancing and making music together broke the walls of distrust and ignorance. For a short moment in time, a small imaginary bridge seemed possible.
After only two of these events, the 'Nights @ Al Hoceima' quickly became very popular with a mostly art-related crowd, ever hungry for the new. They outnumbered the local migrants who normally frequented Al-Hoceima. The Moroccans became outsiders in their own place, all seats reserved by the artist-invaders. That's when Daniela Swarowsky became very aware of the 'exoticism' of this event and her role: paternalizing researcher or interventionist? Finding no quick solution in how to counter-balance this development, the main effort became to help Al-Hoceima to attract a diverse mix of customers and to get away from their Moroccan-only island.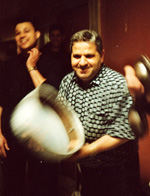 PHOTOS: Daniela Swarowsky