ZWAANSHALS IN MOTION
A two-year art and cultural project in a migrant community
Old North District of Rotterdam
June 2004 - July 2006
ENTER ZWAANSHALS IN MOTION WEBSITE
Zwaanshals in Motion, at that time also called ZiM, was a community-art project in a lively migrant shopping street called Zwaanshals in the Old North district of Rotterdam. The project was initiated and run by Daniela Swarowsky. Active from summer 2004 until summer 2006, ZiM was located in a predominantly migrant district with a high Moroccan/Berber population amongst the many other nationalities. The Zwaanshals area has a rich past in being a former Dutch working class district. Parallel worlds predominate and hardly any mixing occurs. Curiosity about "the other"' seems nowadays a romantic image. Concepts like "tolerance" and "individualism" have lost their meaning and turned into empty words, masking an atmosphere of ignorance and a loss of bonding on a community level.
Stichting ZiM chose Zwaanshals as a field of research and as physical format for three different topics: the role of art in urban renovation and gentrification processes, the potential of art within a local community (community art) and finally ZiM's ethnografically oriented work with migratory issues.
Within a couple of hundred meters, Zwaanshals represents a microscopic representation of a global Western phenomenon: the impact of migration on today's Western societies with the formation of migrant ghettos and how a society is responding to it. Zwaanshals offered a broad field to experiment in for those professionals who dared to come out of their closets - be it artists, architects, scholars, students or civil servants.
The methodology varied: ZiM projects often started with fieldwork and research, always paying great attention to what the people living there had to say. The vision was to mix theory, art, fantasy and activism into a creative chaos giving birth to new approaches unknown to bureaucrats of this world in order to deal with Zwaanshals' reality.
ZiM's second level of research was around the topic of art in urban renovation, a phenomenon described as gentrification. Zwaanshals and the surrounding area were the target of big urban-renovation plans. The area had been chosen by the local government, as well as housing corporations, to become one of the most drastically changed areas in Rotterdam. Such developments can be a threat to the existing community as well as a chance. One of the questions formulated by ZiM was: will the present, very diverse community be able to cope with those new challenges and turn them to their advantage? ZiM made an effort to support the existing community to be capable to participate and also profit from the changes to come.
At the same time, ZiM paradoxically played an active role in this process having won a price given out by the Rotterdam government called "Groeibriljant ZwaMoKa". ZiM found itself inside a big gentrification plan with housing corporations and the City of Rotterdam as partners. Being the only bottom-up player in a top-down project was almost an impossible mission. Artists play more and more an interesting, however controversial, role in gentrification processes. They are often brought in and funded in the hope that they will bring 'hip-ness' with them and often expected to be willing to engage themselves in an often problematic surrounding. This so-called 'Creative City' phenomenon seems rather questionable and participation should be considered with care. Apart from a win-situation of getting free space to use temporarily, ZiM tried to go beyond the goal of decorating and cheering up the neighborhood.
ZiM took on the role of an observer as well as a mediator between the diverse worlds, trying to open up mental as well as physical spaces. The formation of multidisciplinary clusters –the sharing of a diversity of knowledge and experiences– seemed desirable. Exchange, share, mix and imply theoretical as well as practical knowledge. This seemed appropriate in order to fill a big and scary vacuum which today's political institutions and policy makers leave more and more to political outsiders: art projects like ZiM. Sure, getting involved in city politics and policies is an opportunity to test how far one can go with art and what role art is given by politics. But there also lies the risk: to bear in mind that neither artists nor scientists can promise solutions to vast and global problems which bring along quite a historical baggage! The biggest challenge is to invent creative strategies without becoming a bureaucrat oneself and to convince city officials to implement the results from those grass-root projects and guarantee the sustainability of the efforts and findings made.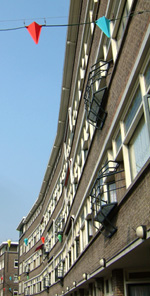 PHOTO: Yu Kuramoto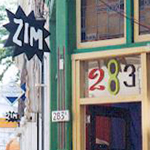 ZiM Opening Weekend
Sept. 2004
PHOTOS: Sjoert Willemstein
ZiM Final Party
June 2006
PHOTOS: Samuli Schielke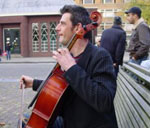 Zwaanshals Portrait
by Sule Attems‏